Back to all posts
Posted on
Remembrance Day Ceremony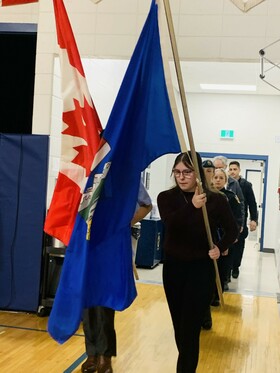 Today Ecole Plamondon School held its Remembrance Day Ceremony at 10:30 am.  The ceremony was attended by parents, community members, various dignitaries, staff and students of Wandering River School, and of course our own staff and students.  
Our emcees, Emelian and Cadence, did a wonderful job leading all of our guests through the program.  Including, our Grade 4, 5 & 6 music class led by Mr. Brian Deheer performed "O Canada", while Efalia and Hailey read the Land Acknowledgment.  We also had a message from our Board Chair, Karen Pacard.  Corporal Jessica Girard from the Royal Canadian Air Force Base 4 Wing Cold Lake presented to those in attendance the role that Canadians have played in making our world a safer place to live. 
Do you know a veteran or a current member of the armed forces that have made a difference in the lives of others?  Today we remembered  Tommy Prince, the most decorated Indigenous soldier, as well as the many others who have sacrificed for our freedom.
Take a look at our picture gallery for more pictures from our ceremony.