Back to all posts
Posted on
Dig Pink - Huge Success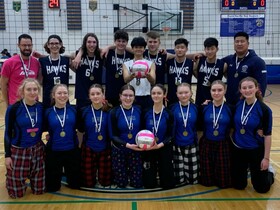 We just wanted to thank everyone who came out to support our annual Sr. Volleyball tournament. While the play on court was impressive, we are humbled and even more impressed by the outpouring of support and generosity toward our Dig Pink initiative in raising funds for the Kids With Cancer Society.
Our goal heading into the week was to raise $1000 in a week and we completely smashed that with our grand total coming in today at $4300!!! That includes a very generous $900 donation from BCHS who took it upon themselves to also run some fundraising initiatives at their school the week before our tournament (Thank you to  Elizabeth-Ann and your teams/school). It is teamwork and generosity like this that makes me so proud to be involved with this great game and wonderful people like yourselves!
Thank you to all the parents, volunteers, staff, and students who put forth their time, baking, and monetary support for our cause.  Together we make a difference!